Rio is just a sweetheart. He is the first male Shiba in my home and he has been a joy to live with.
He turned 10 on August 21, 2004. Rio easily earned his Am/Can titles as a young dog in very limited showing and was bred twice.The second litter with Lacey (Ch. Prescott J's Mari Scottso, ROM) produced 5 beautiful girls, three of which went on to easily earn their AKC Championship titles.
His role in life for the past few years has been as "Grandpa Rio". He enjoys playing with new puppies and is always ready to play ball or lean against people to get a massage.
Rio has enjoyed his retirement and I look forward to several more years with him in my life.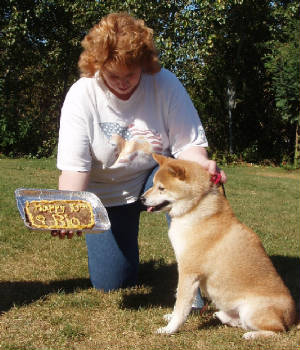 Rio checking out his birthday cake!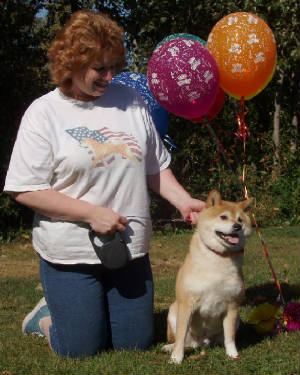 Rio and I at his 10th birthday party!