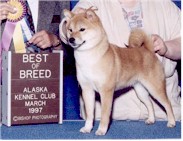 Allie was my first Bred-By Champion. She is one of Rio's girls with Lacy (Ch. Prescott J's Mari Scottso, ROM). There were 5 girls in the litter, 3 of them finished in very limited showing before they were 2.
Allie was never bred but continues to be a very active member of the family. She and her father spend lots of time playing with (and destroying) toys. I sometimes think she may be part retriever because she will ask you to throw the tennis ball until your arm is too tired to move.
Allie was born on Elivs' birthday and turned 8 in January 2004.